Restaurant "Da Mauro" In the central Via Maria Vittoria, a few steps from Piazza San Carlo, the restaurant "Da Mauro" is a safe environment for those looking for simple and cozy, typical dishes flavored honest, fast and accurate service guaranteed by nice waiter of the past and the watchful eye of Mauro and his wife. Restaurant for parties, for each day of the week, for a dinner with friends or for a quick and cheap meal. Via Maria Vittoria, 21 – Turin – Tel. 011 8170604 – Closed Wednesdays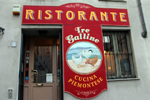 Restaurant "Tre Galline" Historic restaurant in Turin located in the popular and colorful district of "Porta Pila" behind the "Roman quarter", the" Tre Galline" ensures a cuisine strongly linked to the territory, both in terms of products and, above all, to food, all strictly observant Piedmont tradition and all "wet" by the excellent wines of the Piedmont . Ideal for an evening in the company of cheerful people! Via Bellezia, 37 – Turin – Tel. 011 4366553 – www.3galline.it – Closed on Sunday
Restaurant "Del Cambio" Now closed for restoration, the "Change" will re-open as soon as its gilded stucco, rich woods and red velvet have been reported to the splendors of 1757, the year of his birth. Among the regulars illustrious, Camillo Benso, Count of Cavour. In front of Palazzo Carignano, home of the first Italian Parliament, this restaurant is definitely a piece of the history of Piedmont.  Piazza Carignano, 2 – Torino – Tel. 011 546 690 – www.delcambio.it
Restaurant "Teatroria" Located in the decentralized Corso Brescia, this restaurant is eaten exclusively on Friday night, a couple or with many friends. The evenings of the "Teatroria" are special as special is the restaurant, with its stage that comes to life with shows and attractions that involve the guests. Excellent food, able to rework the flavors of Piedmont and ready to offer pastas prepared "in house", Fassone meat and desserts. Friendly service.              Corso Brescia, 77 – Turin – Tel. 011 2767720 – www.teatroria.it – Open only on Friday evening
Restaurant "Dei Pittori" Modern and refined design incorporated into a spectacular and splendid Liberty-style villa that houses a hotel cat. 4 ****. A restaurant where, thanks to an innovative cuisine, respectful of local products and traditions, a wine cellar with labels of the best Italian wines, and impeccable service, it taste pleasantly the table and the company.        Corso Regina Margherita, 57 – Turin – Tel. 011 8600103 – www.hoteldeipittori.it – Closed for lunch on Sunday.
Restaurant "San Giors" In the market square of Porta Palazzo and Balon, the "San Giors" is from the end of '700, welcome meeting place for artists, musicians and travelers. His heart is as old as the walls that house it, even if the mind is to stay young and harassed by the liveliness of the neighborhood and the sincerity of the people who attended researching the flavors of Piedmont of the past, the first of all "the boiled"! True typical restaurant of old Piedmont ..  Via Borgo Dora, 3 – Torino – Tel. 011 5216357 – www.hotelsangiors.it
Restaurant "Monferrato" Ever since 1820, the "Monferrato" is synonymous with good cuisine of Piedmont, a reputation still unchanged if not even increased. An elegant place near the Po river and the hills of Turin, serves typical Piedmont disches paying  attention to the products – all of  highest quality – and preparation, in line with the expectations of a demanding clientele. Do not miss the "fat ox stew with beer and mustard". Reservations are required.  Via Monferrato, 6 – Turin – Tel. 011 8190661 – www.ristorantemonferrato.com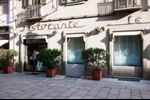 Restaurant "Marechiaro" Ideal for the after-theater and for lovers of the night, the Marechiaro offers a fine dining at any time, from dinner at dawn and then again at lunch. A varied menu and never repetitive, offers a wide choice of dishes of the Piedmont traditional cuisine or tasty preparations of fresh seafood and expertly cooked. And for lovers of pizza there is also a wood-burning oven … An elegant and central restaurant, to live in joy. Via San Francesco d'Assisi 21 – Turin- Tel. 011 5617396  www.marechiaroristorante.it
Restaurant "Sotto la Mole" At the foot of the Mole Antonelliana, symbol of Turin, this restaurant is a Slow Food Presidium despite being born only in 2000, about a cuisine based on research and flavors of Piedmont tradition with modern twist. Raw materials always in season, pasta, bread and breadsticks own production, a cellar full of great labels and courteous service and discreet. Better in two in the evening, after a walk … Via Montebello, 9 – Turin – Tel. 011 8179398 – www.sottolamole.eu
"Osteria Delle Antiche Sere" Tavern device from the matchboard walls and the once wooden counter . Tablecloths "big" small but thick glasses, bread and bread sticks in the basket and a hand-written menu which, by itself, tells the stories of real good food. Antiche Sere, when you ate in front of the stove and we told stories of "masche (witches)" and simple life. Today, one pork shank that alone is worth the visit and a basket of appetizers that … Book!      Via Cenischia, 9 – Turin – Tel. 011 3854347 – www.cucchiaio.it/mangiare-fuori/osteria-ancient-be-torino/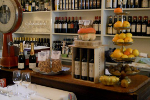 Restaurante "Due Cuori" is part of the list of the members of Slow Food and of the Alliance of Cooks. The Cuisine is "of the territory", with local products, where possible, and respecting the seasonality of all products. Pasta and desserts are all home made. Piazza Cisterna 11 – Biella Piazzo – Tel.015 / 30145 open every evening except Mondays. On Saturday, Sunday and holidays also open for lunch.
Polenteria Della Valle The polenta for the Province of Biella is the DNA of the territory. We use the ancient corn flour (pignoletto rosso and ottofile) stone-ground at the water mill of Netro and raw materials of the territory respecting seasonality. Heating is strictly by wood. Piazza Cisterna 2 Biella Piazzo Tel 3398330410 open every evening except Monday. Saturday Sunday and holidays also open for lunch